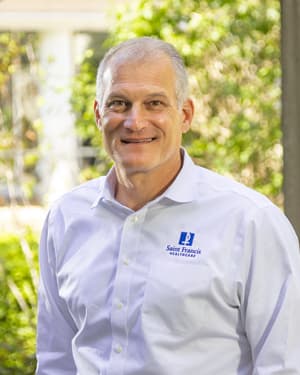 James R. "Jimmy" Wilferth serves as Vice President – Support Services for Saint Francis Healthcare System. Wilferth joined Saint Francis in 2014 as Executive Director of the Saint Francis Healthcare System Foundation. He was promoted to Vice President – Foundation and Marketing in 2017. In addition to the Foundation and Marketing, he provides administrative management for Environmental Services, Facilities Management, Inspire Boutique, Volunteer Services and South Side Farms, the urban farm project in south Cape Girardeau.
Before joining Saint Francis, Wilferth served as President of U.S. Operations for Heart for Africa, an international ministry dedicated to orphan care and sustainability for impoverished communities. He also served as Vice President of National Operations, Financial Director and Chief of Staff for Men at the Cross in Branson, Missouri. Before that, he served as Vice President of Operations for Schaefer Electrical Enclosures and President of United Oil Co.
He earned his bachelor's degree from Southeast Missouri State University. Wilferth is a member of La Croix United Methodist Church and, in 2017, became an ordained pastor.
Wilferth serves on the Board of Directors for the PORCH Initiative (People Organized to Revitalize Community Healing) and Footsteps Medical Missions. He is a member of the Cape Girardeau Lions Club and Cape Girardeau West Rotary.