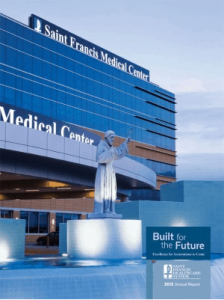 The past year has brought many new and exciting developments for Saint Francis Healthcare System, culminating in the opening of our new five-story patient tower, the forefront of our Building on Excellence expansion and renovation project.
For a glimpse of our progress, we are pleased to present you with our 2015 annual report, "Built for the Future."
Over the past 16 years, Saint Francis has grown to become the premier healthcare delivery network in our five-state region. From our physical growth and regional development efforts to our comprehensive quality initiatives, we continue to further improve the scope and delivery of care for our patients.
This report, which highlights the continuous efforts of Saint Francis Healthcare System and the generous work of Saint Francis Foundation, provides a comprehensive look into the ongoing progression of our organization and regional development.
We appreciate your interest in Saint Francis Healthcare System, and welcome your feedback as we continue to provide the highest-quality healthcare services that best meet the needs of our community and the region we serve – both now and for generations to come.