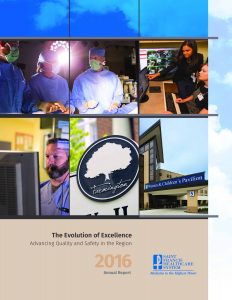 The past year has been filled with exciting opportunities and an exceptional evolution for our organization, as Saint Francis Healthcare System continues to elevate its quality and patient safety efforts.
For a glimpse into our ongoing momentum, we are pleased to present you with our 2016 annual report, "The Evolution of Excellence."
The Healthcare System has enjoyed another year of financial strength and stability, allowing us to excel in a variety of initiatives: the completion of upgraded facilities, an innovative online patient care portal, expanded medical services and excellence in patient-experience rankings.
In July, we welcomed the launch of Epic, our new state-of-the-art and fully integrated electronic medical record system. It now unites all of our hospitals, clinics and facilities through a common database – and makes patient information available to physicians and staff throughout the Healthcare System, as well as other healthcare systems that use Epic.
In addition, Saint Francis has enhanced and expanded our delivery of care and services throughout the region, with the dramatic growth of our talented Medical Partners group, physician practices, clinics and facilities that reside outside of our main Cape Girardeau campus.
Of course, all of these clinical accomplishments would not have been possible without the ongoing dedication and generosity of Saint Francis Healthcare System Foundation, which is also featured throughout our report.
As we move forward to make quality and patient safety our No. 1 goal to meet the unique needs of the communities we serve, we also are grateful for your support of Saint Francis. We invite you to look through this year's annual report to see how we are going above and beyond to keep patients of all ages in our region safe, healthy and well.