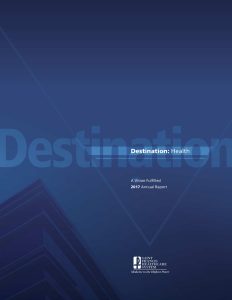 The past year has brought an abundance of opportunity for the Saint Francis Healthcare System, as we continue to elevate the level of medical sophistication in our facilities and expertly serve as the region's healthcare destination. To give you knowledge on our exceptional year in review, we are pleased to present Destination: Health, A Vision Fulfilled, Saint Francis' 2017 annual report.
Saint Francis has experienced another year of strength and stability, allowing us to be the major player in regional healthcare; focus on essential quality initiatives; advance innovation and technology; broaden our community outreach through education; attract and grow the best and brightest physician partners; and enjoy national recognition for our quality care via a number of prestigious awards.
Our many clinical accomplishments would not be possible without the tireless dedication, support and generosity of the Saint Francis physicians, nurses, therapists, technicians and staff. Our Catholic identity gives the entire Saint Francis Family strength and purpose … with a mission and ministry of healing and wellness that guides us in all we do.