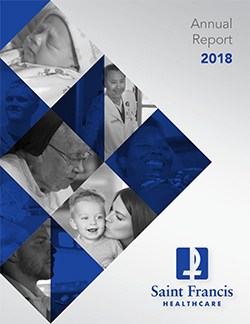 Our accomplishments are numerous and the one accomplishment that exceeds all others is our reaffirmation to the people and communities we serve through our renewed Mission.
Our Mission is more than just words we display in our main entrance; it is a constant reminder we are called to serve all those who enter our doors and who live in our communities.
With our Mission in mind, we focus our efforts on a structured approach through our "Franciscan Framework." This framework assists us to focus on essential business components: outcomes, cost and our patient's experience.
The Framework is displayed in all departments as a reminder of how we attain and live our mission. Everything we do at Saint Francis Healthcare should fit into our Franciscan Framework. If not, then we must ask, "Why are we doing this?" Our actions must align with the framework. When our actions fulfill the components laid out in the Framework, we fulfill our mission.
The well-defined Franciscan Framework provides us a clear pathway towards our renewed Mission. This framework provides a roadmap to reach top decile performance in everything we do from Revenue Cycle to Patient Care – because we are Called to Serve You!
We honor our past, live in our present and always look forward to the good yet to be.