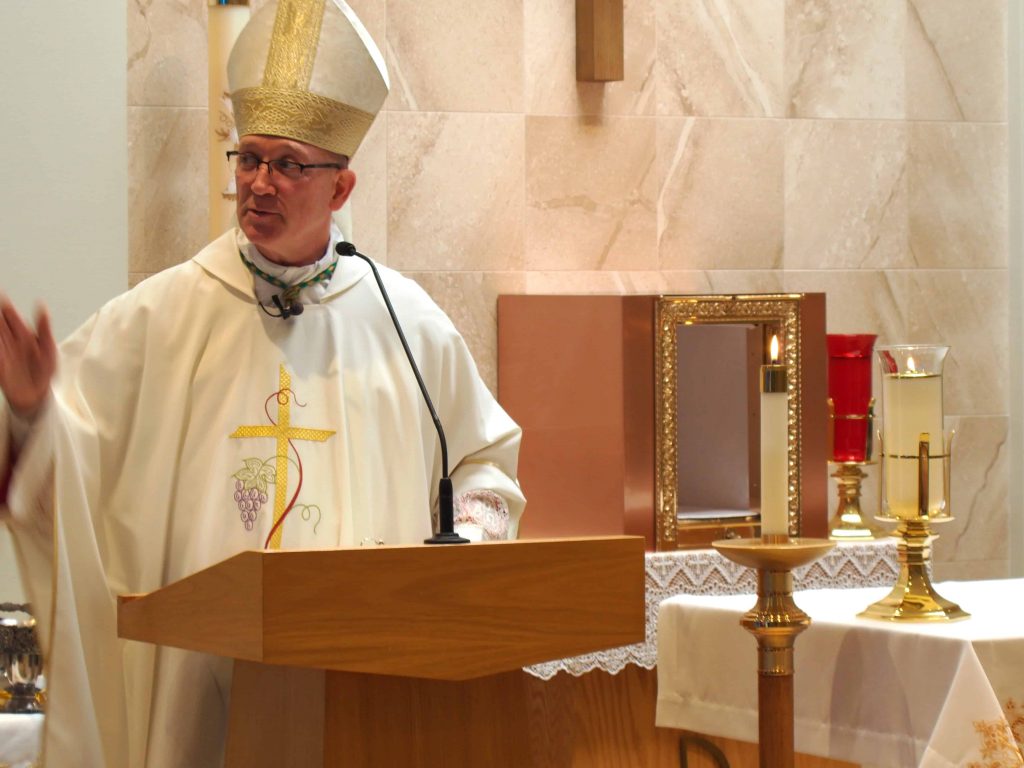 Christ told his disciples in the Gospel of Matthew, "with God, all things are possible."
So the physical presence of God, along with the tabernacle where it is typically housed, has been among the most revered elements of faith for Judeo-Christian believers since the time of the Old Testament.
"In the Jewish tradition, the tabernacle was the dwelling place of God," said Bishop Edward Rice during a special mass Wednesday at the Chapel of Saint Francis where he helped bless a new tabernacle. "It was in the midst of the Children of Israel as they travelled through those 40 years in the desert. And yet, as they moved through the desert, they always knew that God was with them in the tabernacle."
In those days, he explained, the tabernacle held the Holy of Holies and Ten Commandments, the sacred bread, and even the staff of Moses. Wherever they went, from Egypt to the Promised Land, so went the tabernacle with God's presence to comfort and protect His chosen people.
In the Catholic tradition as well, Rice said, the tabernacle has served to hold the presence of God.
"In fact, the early church fathers referred to Mary as the first tabernacle. Her womb. It was the dwelling place of God, just like in the Jewish tradition. The word became flesh and dwelt amongst us," he said. "In the Old Testament, the tabernacle moved with the people of God to symbolize Gods presence there. Mary too, when she received the word of God within her womb, she moved as well. Not only was she the first tabernacle but she took that presence to her cousin Elizabeth."
In modern Catholicism, the tabernacle is used to keep the Eucharist outside the liturgy. That way, the body and blood of Christ are available for delivering the sacrament to the sick and to provide an opportunity for prayer and adoration.
But as the Bishop pointed out, the tabernacle is more than an object. It's an ancient symbol.
"The term tabernacle illustrates the history of God's desire to be in our midst. It's a physical reminder God desires to be in our midst. Whether travelling through the desert for 40 years, or Mary bringing the word of God in her womb, or the celebration of the Eucharist and reserved in the tabernacle, God dwells with us. God protects us. God nourishes us," he said. "So, we come to this tabernacle. And we pray that we may know that our god is in our midst. Because with that knowledge, all things are possible."
The blessing, delivered by Bishop Rice:
"Lord and father of all holiness, from whom the true bread of heaven has come down to us, bless us and the tabernacle we have prepared for the sacrament of Christ's body and blood. Through our adoration of your son present in the Eucharist lead us to a closer union with the mystery of redemption. We ask this through Christ our Lord.
May almighty God bless this tabernacle in the name of the Father and of the Son and of the Holy Spirit. Amen."