Edward Heath, RN, BSN – Emergency Department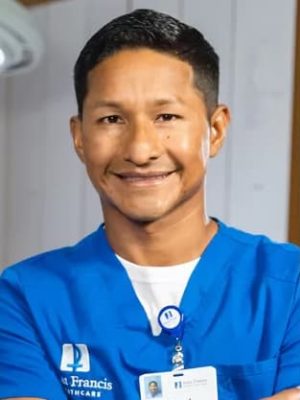 Edward Heath discovered his love of the healthcare industry while living in his home country of Peru when a group came to his town on a medical mission trip. Seeing the work that was performed inspired him to pursue his passion.
Heath came to America when he was 14 years old after being adopted by someone who was a part of the medical mission team to his home town.
"I knew I wanted to be in healthcare, but I wasn't sure in what capacity," says Heath. "I was already in college [at Southeast Missouri State University] when I began to lean more towards nursing. Being bedside and walking through everything with the patient was what appealed to me most."
In 2011, Heath joined the Saint Francis Family working in our Emergency Department and is still very passionate about his work today.
"I absolutely love what I do," expresses Heath. "This is exactly where I saw myself, working with patients and providing medical care as well as mission care."
The Emergency Department is a high-stress environment, but Heath has embraced the stress and is able to provide those in our community with great medical care.
"You never know what is going to come through the doors in the ED," says Heath. "As an emergency nurse, there is a balance of being tough and compassionate while we work to provide patients the best care."
Heath already had his heart set on medical missions before joining Saint Francis and has worked with others to provide care in Peru, Liberia, Mexico and Haiti. Being a part of Saint Francis and our mission of proving a ministry of healing and wellness seem to be a perfect match.
"My heart is missions," says Heath. "For me, missions and nursing go hand-in-hand. They helped me to grow as a person and allowed me to meet my wife, Danielle, and start my family. They are big supporters of my passion."