In January 2014, Saint Francis Medical Center announced its affiliation with the Cleveland Clinic's Sydell and Arnold Miller Family Heart and Vascular Institute.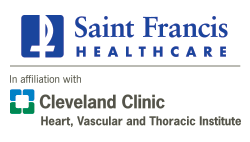 This unique affiliation takes Saint Francis' already exceptional cardiac care to the next level by offering patients in the region the highest level of cardiac care available in the country.
"We are excited about this new relationship with Saint Francis," says Bruce Lytle, MD, chairman of the Cleveland Clinic Miller Family Heart and Vascular Institute. "Saint Francis has a fine cardiac program, and we are delighted that its team of talented caregivers is joining us in an exclusive local affiliation."
When Cleveland Clinic invited Saint Francis as an affiliate and evaluated its exceptional cardiac program, they knew they had made the correct choice in offering it an exclusive local affiliation. Having this unique opportunity to join together with Cleveland Clinic will not only improve patient outcomes using the latest heart treatments available close to home, it will also improve the overall heart health of our community.
With this new affiliation patients will benefit from:
Access to the best practices that have helped Cleveland Clinic's heart program achieve the U.S. News & World Report's No. 1 ranking for 20 consecutive years
The ability to stay close to home for their heart care, while being treated by Saint Francis specialists who are collaborating with Cleveland Clinic on the latest treatments available
Saint Francis specialists who have access to Cleveland Clinic research, processes and protocols related to all cardiac sub-specialties
Cleveland Clinic collaborating with Saint Francis staff on dealing with complex medical situations and using the newest technologies and innovations
Sharing of best practices related to all cardiac sub-specialties
Even more experts weighing in on the best treatment for each particular case
Working together toward a goal of improving patient outcomes