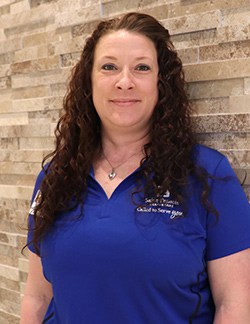 Danah Brandel
Danah Brandel, Patient Financial Services Manager, knows hard work can lead to success. She's developed her nearly 22-year career at Saint Francis Healthcare System.
Danah began her career at Saint Francis as a cashier in Food and Nutrition Services in 1997 after graduating from high school. One year after that, she received a position as a file clerk in the Business Office. Since then she has served in a couple different roles in the Billing Department. Then in 2017, Danah was promoted to Patient Financial Services Manager.
"I dabbled in most all of it," Danah said. "My job as a manager is to help my colleagues achieve their goals. Saint Francis has a lot of different jobs. You just have to pick it."
She thanks Peggy Slinkard, Manager of Hospital Billing, for helping her develop into the leader she has become today. Danah is still learning and growing her career. She is currently pursuing a degree in Business Administration from American Public University.
"It's fulfilling to know you have touched lives without touching bodies," she said. "We don't have to touch bodies. We can touch hearts."
Through the years, Saint Francis Healthcare colleagues have become more than co-workers.
"Ultimately, Saint Francis is my family," Danah said. "Regardless of how many cycles in my life, Saint Francis has been a constant."