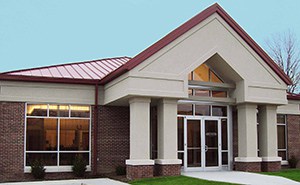 Sikeston Imaging Center is proud to provide radiology services to the Sikeston, MO community. At our office, located at 1014 North Main Street, we use the most up-to-date digital technology for multi-slice fast CT and high field MRI. Sikeston Imaging Center's Picture Archiving and Communications System (PACS) and web viewer provide physicians with digital radiological images and diagnostic reports via the Internet.
All procedures performed at Sikeston Imaging Center will be read and interpreted by board-certified radiologists, physicians who are specifically trained to perform and evaluate diagnostic examinations. we also offer the highest level of subspecialty expertise in neuropathology, musculoskeletal, and body imaging. If you're looking for radiology services that provide you with more than just an image, please contact us – the staff of Sikeston Imaging Center.
Services
CT stands for computerized tomography, but most people know it as a CAT scan. A CT scan is a special type of x-ray procedure that produces an image of a cross section, or slice, of the body, similar to a slice of bread out of a loaf. CT is a valuable diagnostic tool that can detect some conditions that plain x-rays cannot. It can show detailed images of all parts of the body, including the bones, muscles, fat and organs. The CT scan aids in the diagnosis of tumors; indicates internal bleeding, infections and abnormal fluid collection; and can check for other internal injuries. Be sure to ask your doctor about CT scans and about Sikeston Imaging Center. For more information on CT, see the CT section at RadiologyInfo.org
High field MRI is used to obtain the highest resolution, full-body images faster than ever before. The superior imaging capability of our Siemens Magnatom Avanto provides unsurpassed speed and a whole new level of diagnostic detail. This superior imaging quality improves patient diagnosis and treatment for a number of diseases. In addition to the superior quality of the high field MRI, the patient-friendly design, with feet-first access, makes it inviting for those patients who may be uncomfortable in small spaces. With increased imaging quality and speed, patients will not have to be repositioned during the scan and noise reduction frees patients from wearing ear protection for many routine exams.
Hours
| | | | |
| --- | --- | --- | --- |
| Monday: | 8 am | - | 5 pm |
| Tuesday: | 8 am | - | 5 pm |
| Wednesday: | 8 am | - | 5 pm |
| Thursday: | 8 am | - | 5 pm |
| Friday: | 8 am | - | 5 pm |