The recent renewal of a prestigious accreditation at Saint Francis Medical Center's Chest Pain Center is good news for the Medical Center and even better news for the patients in the region who rely upon its care.
The Chest Pain Center holds full Cycle IV accreditation with PCI (percutaneous coronary intervention) by the Society of Cardiovascular Patient Care. Located in the Saint Francis Emergency and Trauma Center, the Chest Pain Center ensures rapid, around-the-clock diagnoses and treatments for heart attack patients.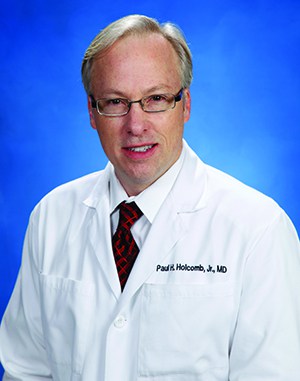 "This accreditation means we have everything in place that we need improve patient care," says Paul H. Holcomb Jr., MD, FACC, FSCAI, interventional cardiologist at Saint Francis. "We get a patient to see a physician faster than the allotted time of 90 minutes. We see patients mostly before 60 minutes, and sometimes even faster than that."
For more information, visit www.sfmc.net/dev-2015 or call 573-331-3000.