Whether or not to undergo breast reconstruction surgery after a mastectomy is an intensely personal decision for the breast cancer patient. It is not a decision to take lightly. Some women choose to get immediate breast reconstruction. Others decide to wait a while for the procedure – either for medical or personal reasons. Many choose not to get the surgery at all.
To make sure she's making the right choice for herself, any woman who is considering breast reconstruction after a mastectomy should discuss her options – and any concerns – with her medical team.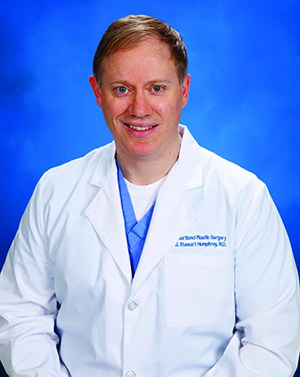 "I think it's a very personal choice she needs to make, or needs to make in conjunction with loved ones," says J. Stewart Humphrey, MD, plastic surgeon at Saint Francis Medical Center. "Some women don't feel the need to do anything extra than what they need to survive. Some women don't feel complete without their breasts. I think that's a decision only the patient can make."
Humphrey encourages breast cancer patients to discuss their thoughts and feelings about whether they want breast reconstruction or not – and, if they do, which type of surgery would be the best choice.
"Women should not be shy about seeing a plastic surgeon and seeing what options are out there," he says. "They should be armed with all the information out there and feel empowered to make the decision for themselves. In my opinion, it's always best if women have a consultation about breast reconstruction even before their mastectomy to talk about their goals and expectations for reconstruction, discuss what's possible and what's not possible, and alleviate their fears. Not every woman is a good candidate for every reconstruction option."
Breast cancer patients considering breast reconstruction after a mastectomy should discuss the following with their medical team: their treatment status (chemotherapy, radiation therapy, etc.), the different types of breast reconstruction available (saline or silicone implants, or autologous reconstruction, which uses a woman's own tissue), their desired time frame and any other concerns.
For more information, visit www.sfmc.net/dev-2015 or call 573-331-3000.