Coronary artery bypass surgery can correct a serious heart problem, but the surgery alone may not be enough to prolong a patient's life. Cardiac rehabilitation is extremely important to help manage the risk factors that contribute to heart disease.
"Bypass surgery can circumvent the blockages in your heart's arteries," says Joseph C. Dwyer, MD, FACC, cardiologist, Saint Francis Medical Partner. "But it is after surgery that a patient's hard work really begins."
Through cardiac rehabilitation at Saint Francis' Heart Hospital, patients slowly resume their activity level under the supervision of trained specialists. They also learn how to incorporate a heart-healthy diet into their lifestyle.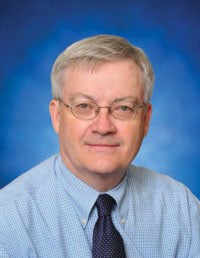 "Studies have shown that patients who undergo cardiac rehabilitation after a significant cardiac event or surgery are more likely to live longer," says Dwyer. "Physical activity and a healthy diet are essential to preventing future problems. The medical professionals in cardiac rehabilitation can help with that."
For more information, call 573-331-3000.