Chlorine is a chemical used to kill bacteria in pools. While it helps keep the water clean, it can be hard on skin – especially if you stay in the pool for hours. Excessive chlorine can cause you to develop a red, itchy rash and result in extremely dry skin.
"The best way to combat the effects of chlorine is to remove it from your skin after swimming," says Charles M. Moon, MD, dermatologist on staff at Saint Francis Medical Center. "As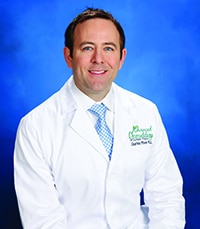 soon as you exit the pool, take a shower and wash the chemicals off your body with soap and water. Moisturizing lotions and creams are also helpful to keep the skin hydrated. Moisturizers that contain ceramides are especially effective for dry skin."
For more information, call 573-331-3000.