March is Colorectal Cancer Awareness Month – What Can You do to Protect Your Health?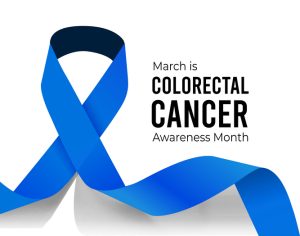 Colorectal Cancer Awareness Month is observed during the month of March, and highlights important preventative steps and lifestyle changes that can be taken to lessen the risk of developing colon cancer.
According to Alicia M. Henao, MD, Hematologist and Medical Oncologist with Cape Medical Oncology, a Saint Francis Healthcare System Medical Partner, colon cancer is "any malignancy or mutation of cells that arises in the area of the large bowel (large intestine), including the colon and/or rectum." Colon cancer often begins as noncancerous clumps of cells called polyps that form on the inside of the colon or rectum; however, "polyps can develop into colon cancer over time without producing many, if any, symptoms along the way."
Henao explains that the exact cause of colon cancer is not known, but "some lifestyle factors like certain diets" have been linked to an increase in colon cancer diagnoses. Those who have a family history of colon cancer are also at a higher risk genetically for developing the disease.
Colon cancer remains as one of the top four most common types of cancer. With cases continuing to rise each year, Henao recommends regular colon cancer screenings as an important preventative step, such as colonoscopies or stool testing for blood.
"People who do not have a family history of colon cancer should consider starting regular screenings at age 45." Those who are at higher risk, such as those with inflammatory bowel disease or polyposis, or those who have a family history of colon cancer, are encouraged to receive a screening sooner. Henao also proposes, "if someone has a family history with a colon cancer diagnosis prior to the age of 40, they should consider genetic counseling, a service which is offered at the Saint Francis Cancer Institute."
Henao notes "there are simple lifestyle changes that can be implemented to lower the risk for developing the disease." Maintain a healthy weight, incorporate physical activity into one's daily routine, increase the fiver in one's diet, decrease the amount of processed foods ingested and avoiding heavy tobacco use and alcohol consumption.
For more information about colon cancer and colon cancer prevention, call 573-331-5525 or visit sfmc.net/cancer.