The CyberKnife® Robotic Radiosurgery System is one of the newest weapons in the fight against cancer. It is also one of the most powerful. At Saint Francis Medical Center, the remarkable results are starting to roll in.
"We have been using the CyberKnife for about a year, so we don't have long-term results," says Tapan Roy, MD, FACR, radiation oncologist at Saint Francis. "But I've been very gratified with the lung tumor patients. After three months of CAT scans, the tumors are completely gone. Nobody can tell that these patients ever had tumors. The same thing happened with abdominal tumors, and then several lesions in the brain have disappeared, too. Most people get the treatment, walk away, and then go back to their normal lives, with minimal side effects."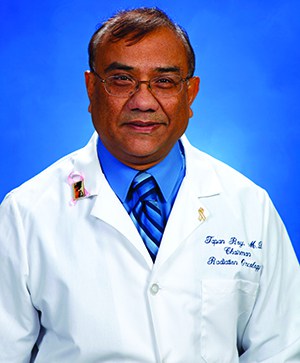 The only one of its type in the region, Saint Francis' CyberKnife System offers a noninvasive alternative for the treatment of cancerous and noncancerous tumors anywhere in the body, including the prostate, lungs, brain, spine, liver, pancreas and kidneys. Because it delivers beams of high-dose radiation with extreme accuracy, it is ideal for patients with traditionally inoperable or surgically complex tumors.
"The CyberKnife is a great choice for patients who are otherwise inoperable for a variety of reasons due to various medical conditions," says Roy. "We can also use the CyberKnife if the tumor is located very close to some critical structure in the brain that would prevent us from being able to use traditional surgery. Also, for patients whose previous chemotherapy treatments have failed and there are no other options, we will come in and do this treatment."
The system uses sophisticated image guidance software to track and continually adjust treatment for any tumor movement, allowing patients to breathe normally and relax during treatment. Unlike other options that can result in hair loss, overnight stays and painful recoveries, CyberKnife treatments cause minimal side effects (or sometimes none at all) that usually diminish quickly. Common side effects may include nausea and fatigue.
For more information, visit www.sfmc.net/dev-2015 or call 573-331-3000.