The Saint Francis Medical Center Emergency and Trauma Center treats every patient quickly. There may be times, however, when you are asked to wait. That is why we have created a waiting room video that explains what you can expect and how an emergency room works.
"When you are in the waiting room, you might look around, see an empty room and wonder why you are waiting," says M. Kevin Hammond, MD, FACEP, emergency medicine physician at Saint Francis. "In reality, there may be many more patients being treated in the back of the emergency room. The sickest patients do not enter through the waiting room; they come in an ambulance or helicopter, which means you will not see them."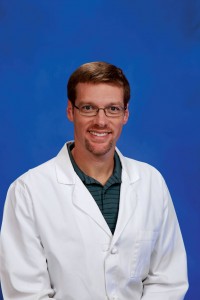 The video explains standard procedure in the Emergency and Trauma Center: When you enter, you will register and be given a wristband with your name, date of birth, medical record and account number. The triage nurse will bring you into a room and use your vital signs and health history to determine if you need immediate attention.
"All patients who come to the emergency room need care," says Hammond. "However, a person who is having a heart attack will receive treatment before a person with a broken finger."
Saint Francis is the only Level III Trauma Center between St. Louis and Memphis, treating about 40,000 patients each year. Because of this, as many as 30 ambulances arrive at the Medical Center each day, each of which requires prompt attention from doctors and nurses.
"We have 13 full-time physicians on staff in the ED," says Hammond. "All of us have special training to treat emergency situations, and we move very quickly, though tests can take between one and four hours. We work hard to communicate how long your wait might be, but it is important that you are honest, too, about your health history and the medications you take."
When you communicate clearly with your physicians and nurses, they can quickly assess the safest and most efficient way to treat your illness or injury. If your symptoms change during your wait, tell the triage nurse and he or she will reassess you.
"We hope this video will help our patients have a better understanding of what they can expect in our emergency room," says Hammond.
For more information call 573-331-3000.