When Malinda Milam entered Saint Francis Medical Center's Family BirthPlace in December 2013 for monitoring of her pregnancy, she was frightened and apprehensive. However, the smiling, reassuring faces she saw put her at ease immediately.
"I couldn't help but feel like I was with family," says Milam, 34, of Benton, Mo. "I was hooked up to the monitors for four hours, and it was a positive, uplifting experience. The nurses were reinforcing that everything was going to be OK. And when I went home, I knew that if I felt anything different, they were there for me."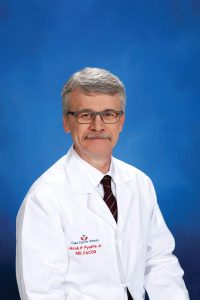 Because Milam was pregnant with twins, she was considered a high-risk patient, so she was seeing both Jacob P. Pyeatte Jr., MD, FACOG, obstetrician and gynecologist at Saint Francis, and Naomi L. Wahl, MD, FACOG, perinatologist at Saint Francis. "Her twins shared a placenta and therefore were at an increased risk for complications, such as twin-to-twin transfusion. Interventions are sometimes needed to improve the outcomes for these twins," says Wahl.
Milam underwent monitoring several more times before the babies were born via C-section on January 28, 2014. The surgery went more smoothly than she could have imagined. "The doctors and nurses walked me through every step of the procedure,"
she says. "I never had to wonder what was going on behind the sheet. It was almost like a wedding day where everything just falls into place."
As Milam recovered in her room, nurses brought the baby girls – Brendan and Jalyn – to her right away so she could try breast-feeding. Later, a lactation consultant spent about three hours helping her learn how to breast-feed. "My milk didn't come in for a few days, but the nurses and lactation consultants were there encouraging me every step of the way and providing me with breast pump supplies," says Milam.
"No matter what was happening in the nurses' days," Milam continues, "when they were in my room, I was their only concern. It's unbelievable that people can care that much."
For more information, visit www.sfmc.net/dev-2015 or call 573-331-3000.