If you are a golfer, you know how physically draining it can be to play 18 holes and have to go back to work the next day. The Fit Fore Golf Program at Saint Francis Medical Center's Fitness Plus helps avid golfers build up their core strength so they are ready to hit the course.
"Building up your core strength does not just mean working on your abdominal muscles," says Jeff "Cliff" Green, BS, ACE, fitness specialist and personal trainer at Fitness Plus. "You are also concentrating on your hamstrings,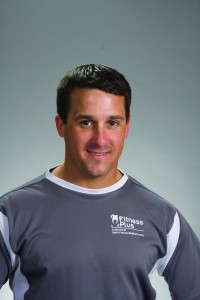 glutes, lower back and quadriceps."
Program participants work one-on-one with Green to prepare their muscles for golfing. "Instead of lifting weights, we do more exercises that use your body's natural resistance, such as pushups," says Green. "I also help my clients learn proper stretching techniques. Each session is tailored to the individual."
For more information, visit fitnessplus.sfmc.net/dev-2015 or call 573-331-3355.