When is a mole worth worrying about? When should it be a cause of concern?
Although most moles are benign (noncancerous), they can sometimes be a sign of cancer. See a dermatologist if your mole is new, growing or otherwise changing.
"Varied colors within a mole, irregular borders of a mole, or a very dark spot on the skin may signal that you have a mole cancer called melanoma. Additionally, moles that are growing in size and enlarging out of proportion to any other spot on the body can be a worrisome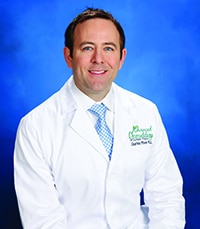 sign," says Charles M. Moon, MD, dermatologist on staff at Saint Francis Medical Center.
Moon, along with Heather Miller, FNP, and Amy Willingham, PA-C, will provide the free skin cancer screenings on Saturday, March 29 from 7:30 am-noon at Saint Francis Womancare, Entrance 2.
Preregistration is required. Call 573-331-3996 to schedule your free screening.