Undergoing a knee or hip replacement can be frightening and overwhelming. But Amy Brentlinger, RN, BSN, Joint Care Coordinator at Saint Francis Medical Center's Center for Joint Replacement & Revision, wants patients to know they are not alone: They can always contact her for support and answers to their questions. Brentlinger works with each patient to make sure they know what to expect before, during and after their surgery.
"I tell them I will be their liaison – their go-to person," she says. "It's very reassuring to them to see a familiar face during their stay at the hospital."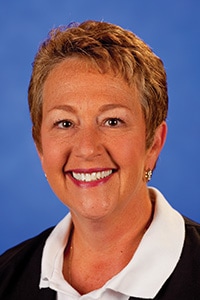 When patients first meet with their physician, they receive a guidebook filled with pages of information. They also attend a 2 ½-hour preoperative class that Brentlinger teaches. "We want adequate time to prepare the patients and their families for surgery," says Brentlinger.
During the class, Brentlinger tells funny stories and uses real-life examples so patients truly understand the information. "They tell me the time just flies by," she says. "I have had people tell me I remind them of Lucille Ball or Phyllis Diller."
Brentlinger sees most patients just a few hours after their surgery and tells them what they can expect over the next few days. Then, as they undergo group therapy sessions, she checks in on them periodically. When it is time for them to leave the hospital, she goes over discharge instructions.
After patients return home, Brentlinger calls them to make sure they do not have any more questions. "They all leave here knowing they can call me at any point," she says. "When they do call, it is usually because they have questions about their medications or wound care."
Brentlinger plans quarterly reunion luncheons for past patients. The events give her an opportunity to solicit feedback from people who have finished the entire joint replacement process.
"We are always improving what we are doing," she says. "The team of caregivers in the Center for Joint Replacement & Revision wants to make sure we give our patients the very best care possible."
For more information, call 573-331-3000.