If you lose weight and start a regular exercise routine, you may be able to reverse your Type 2 diabetes, or at least reduce the number of medications you take.
Studies have shown that some people who have lost a significant amount of weight and exercised 150 minutes or more per week have been able to improve their blood sugar levels.
"It is important to note that this will only work for some people who have Type 2 diabetes," says Ahmad Z. Sheikh, MD, FACE, ECNU, CCD, endocrinologist, Saint Francis Medical Partner. "People who recently have been diagnosed with diabetes have a better chance of reversing it, as opposed to those who have lived with the disease for five years or more."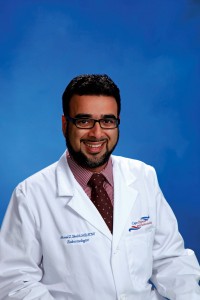 "Even if you do not reverse your diabetes," continues Sheikh, "adopting a healthier lifestyle can slow its progress."
To find out more information on reversing Type 2 Diabetes, call 573-331-3000 or visit our Cape Diabetes and Endocrinology webpage.