Newborns who have difficulty breathing can get the help they need in Saint Francis Healthcare System's Level III Neonatal Intensive Care Unit (NICU). Doctors give babies treatments ranging from airflow in the nose to a breathing tube that infuses medication into their lungs in the Level III NICU.
"Prematurity is the most common reason for respiratory distress, but term infants can also have trouble breathing," says Alan R. Barnette, MD, FAAP, neonatologist,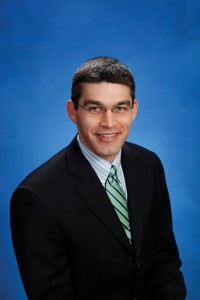 Saint Francis Medical Partner. "Premature babies are deficient in surfactant, a substance that helps the lungs expand and breathe more easily. We give them a surfactant through a tube. With time and our support they improve."
"With improvements in medications and technology, smaller infants are now cared for with less need of invasive ventilation than in previous decades," continues Barnette.
The Level III NICU provides the most sophisticated care for premature or critically ill newborns. It is staffed by board certified, fellowship-trained neonatologists, who offer the reassurance of specialized care to families, if their baby should need it.
For more information, call 573-331-3000.