Critically ill newborns will receive the care they need and family members will have access to a home-like environment in Saint Francis Medical Center's new Level III Neonatal Intensive Care Unit (NICU).
The Level III NICU moved to its new location in the Medical Center on December 10. The new unit has 18 private rooms which allow parents to be with their babies in a private environment, enhancing critical early-life bonding opportunities and making parents readily available to play a more active role in care. "Saint Francis is at the forefront of best practices in neonatology," says Karlyle K. Christian-Ritter, MD, FAAP, neonatologist at Saint Francis. "More and more facilities are switching to private rooms, which prevent the spread of infection and give sick infants the best environment in which to thrive."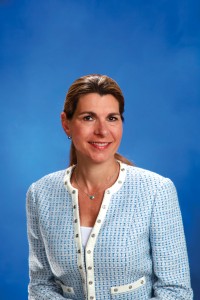 On December 7, Saint Francis invited Level III NICU graduates and their families to an open house to tour the new facility. The families – some of whom had babies in the Level III NICU when it opened in 2001 – were impressed by its attention to detail. Each room has a comfortable sofa for parents.
The Level III NICU graduates and their families also saw the new facility's specially designed spaces for multiples. The Level III NICU has five rooms equipped for twins, and two rooms for triplets.
"These families know firsthand how stressful it can be to have a sick baby," says Christian-Ritter.  "Private rooms, space designed for parents and special rooms for multiples are extra touches that help make families more comfortable."
The new Level III NICU includes a family room – an area where parents and siblings can spend time together. The room has activities and videos and provides a respite for families who want a short escape from the clinical setting.
Another special feature in each room is a baby camera, which allows family and friends who live far away the opportunity to view babies via a private, live web video stream. "Level III NICU babies cannot have many visitors due to the need for infection control, so these cameras allow parents to introduce babies to their loved ones," says Christian-Ritter.
For more information, call 573-331-3000.