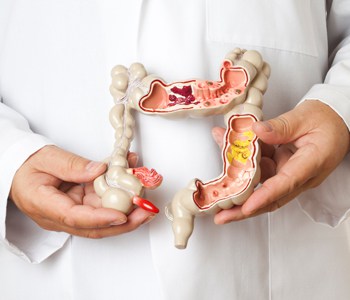 There are 30 percent fewer cases of colon cancer in the United States than there were 10 years ago. More adults are taking preventive measures against the potentially deadly disease. While a colonoscopy is still the gold standard for preventing and detecting colon cancer, a new test has emerged that can help doctors save lives.
Cologuard is a noninvasive test that checks for 11 different substances in a stool sample.
"A lot of times we think of stool as being only the residual leftovers of food we eat," says Michael R. Freeman, MD, gastroenterologist, Saint Francis Medical Partner. "But it is much, much more. It includes all of the cells that have lived out their useful lifespan and died.
Cologuard uses an algorithm to determine whether you are likely to have colon cancer based on the contents of your stool."
The New England Journal of Medicine  published a study in which all participants took the Cologuard test first, and then underwent a colonoscopy. In the study, 92 percent of the people who had a positive Cologuard test later were determined to have colon cancer –  a statistic that shows the test produces very few false positives.
However, the same study also showed only 42 percent of people who had polyps that are likely to turn into cancer were also found to have polyps on the Cologuard test.
"While the colonoscopy is still a better tool to prevent and diagnose colon cancer, only 59 percent of people are following recommendations for undergoing this test," says Freeman. "Cologuard is aimed at the other 41 percent who are not undergoing any screening. It is intended for people who are in the normal risk group for colon cancer."
The American Cancer Society recommends that adults ages 50 and over undergo a colonoscopy every 10 years.
Saint Francis offers comprehensive services for screening, prevention and treatment of colon cancer. To schedule an appointment with one of our gastroenterologists, call 573-331-3996.