Saint Francis Healthcare System offers a Palliative Care Program for inpatients who have a chronic or life-limiting illness. The team includes a medical director, nurse practitioner, nurse and a social worker who help patients and their families with determination of care goals, management of symptoms associated with chronic illness and improving the understanding of treatment options.
"Palliative care is often misunderstood as only end-of-life care," says Leigh Hampton, MSHS, MSN, RN, APRN, FNP-BC, Palliative Care Coordinator and family nurse practitioner with Saint Francis Healthcare System. "Our role also strives to improve outcomes in chronic disease, reduce readmissions to the hospital and help make changes in our patients' home environments to improve quality of life."
Depending upon a patient's individual needs, Hampton can bring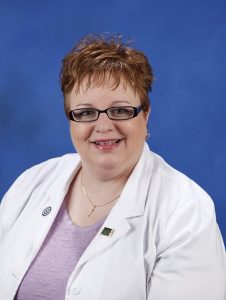 alternative treatments such as "Healing Touch" and biofeedback to the bedside. Pet Pals also assist patients and families with stress relief during hospitalization. "Symptom management is one of our top priorities in Palliative Care, and that can take many forms," Hampton says.
To learn more about the Palliative Care Program at Saint Francis, call 573-331-5465.