Five years ago, Caitlin Simmons of Cape Girardeau was sparring with a partner during a martial arts workout when she heard her shoulder pop and her arm went numb. After seeing a doctor, she found out her collar- bone had separated from her shoulder blade.
Simmons, now 24, waited for the swelling to go away, then decided her pain had lessened and she did not need any more treatment. But from that point on, she had severe instability in her shoulder. "If I tried to pick things up, I was scared that something was going to give out," she says.
During summer 2015, Simmons' mother underwent physical therapy at Saint Francis Medical Center for a similar injury. The therapy helped her so much that she encouraged her daughter to ask her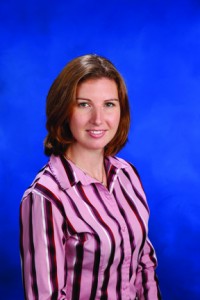 doctor for a referral to see therapist Katie Thomas, DPT, CLT, CMPT.
Seeing Thomas turned out to be just the right move. Simmons learned seven of her ribs were out of place and her collarbone was not in line.
To fix the problem, Thomas performed a muscle energy technique on Simmons. She used Simmons' muscle contractions to move her bone. "Muscles have a memory, and we were resetting that memory," says Thomas.
She worked on Simmons' ribs and thoracic spine utilizing joint mobilizations, using her hands to move the bone to where she wanted it to go. She also taught Simmons how to stand up straighter and train her shoulder blades to move back so she does not slump.
It only took five or six sessions for Simmons to feel a big difference. "It is amazing what I can do now compared to what I could do before," says Simmons. "Now I do not have such pain and instability."
Simmons' family teaches martial arts, and she has found she can work much better with students now that her pain is gone. "I had no idea physical therapy would help so much," she says.
If you are interested in meeting with a physical therapist at Saint Francis, speak with your primary care physician or call 573-331-3000.