Preeclampsia usually involves high blood pressure and protein in the urine. If an expectant mother has these symptoms in her 20th week of pregnancy or later, she may have preeclampsia, and a reason to see her physician.
"Preeclampsia usually is mild, but it can be devastating," says Jacob P. Pyeatte Jr., MD, FACOG, obstetrician/gynecologist at Saint Francis Medical Center. "A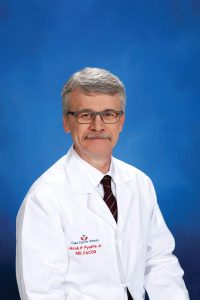 hypertensive crisis could affect both mother and fetus."
Other symptoms include headaches, dizziness, changes in vision, nausea, abdominal pain and swelling in the legs, hands and face. Additionally, if left untreated, preeclampsia can cause complications such as low birth weight, premature birth and placental abruption, which can cause vaginal bleeding for the mother and a lack of oxygen and nutrients for the baby.
For these reasons, it is important for physicians to monitor the condition. Some cases require inducing labor.
For more information call 573-331-3000.
Related Articles