If you suffer from chronic respiratory disease and frequently experience shortness of breath, your doctor may give you a referral for pulmonary rehabilitation.
"Conditions such as chronic obstructive pulmonary disease (COPD) can be limiting, but you can still lead a full life when you learn how to condition your muscles and take in as much oxygen as possible with each breath," says Bradley K. Bittle, MD, FCCP, D-ABSM, pulmonologist, Saint Francis Medical Partner.
Patients come to pulmonary rehabilitation twice a week and work with both nurses and exercise specialists. The duration of the program depends on a patient's individual diagnosis, but most patients come in for 24 to 30 visits.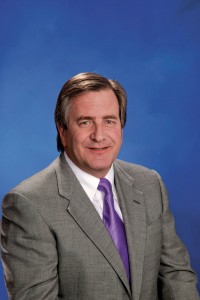 Patients learn how to properly use their inhalers and oxygen therapy. They also receive instruction on the importance of staying away from smoking and eating a healthy diet.
As part of the pulmonary rehabilitation, patients exercise in Saint Francis' Fitness Plus gym. "Exercise is very individualized," says Lois Schade, RRT, RN, cardiac and pulmonary rehabilitation nurse at Saint Francis. "We have people who are limited, but there is still a lot of equipment they are able to use."
Patients condition their muscles by using special machines such as an upper body exerciser that works much like a bicycle, except it requires arm power, not leg power.  "Machines like these help patients build their chest muscles, which helps with more efficient breathing," says Schade. Lower body exercises can include walking around a track or using specially designed stair-climbers.
Supervised exercise not only builds muscle strength, but also teaches patients proper breathing while exercising so they are not  wasting energy. The goal is for patients to condition their bodies so they experience less shortness of breath in their daily life.
"Many of our patients are pleasantly surprised by how much easier they can perform their everyday activities," says Bittle.
For more information,call 573-331-3000.