Patients at Saint Francis Medical Center now have access to treatments and therapies from the No. 1 heart program. The Medical Center's Heart Hospital has affiliated with Cleveland Clinic Sydell and Arnold Miller Family Heart and Vascular Institute.
"Saint Francis already provides our patients with the most technologically advanced care in the region," says Steven C. Bjelich, FACHE-D, President and Chief Executive Officer at the Medical Center. "This affiliation gives us access to the best practices that have helped Cleveland Clinic's heart program achieve the U.S. News and World Report's No. 1 ranking for 19 consecutive years."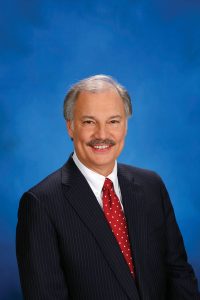 As part of the affiliation, Cleveland Clinic will provide Saint Francis staff with training about dealing with complex medical situations and utilizing the newest technologies and innovations. It will also share best practices related to all the cardiac sub-specialties.
"Our ultimate goal is to improve patient outcomes," says Edward M. Bender, MD, FACS, cardiothoracic surgeon at Saint Francis. "Our Heart Hospital has a reputation as a top-notch institution. Now we have access to the most groundbreaking treatments and protocols in the country."
Saint Francis' Heart Hospital offers complete cardiovascular services with a highly skilled team of cardiologists and cardiothoracic surgeons. Staff members provide a full suite of cardiovascular care with advanced diagnostics, leading-edge cardiac interventions and surgeries, risk assessments and rehabilitation.
The new affiliation means that some physicians and other medical professionals will travel from Cleveland Clinic to Saint Francis and work with Saint Francis physicians and staff on quality outcomes and best practices.
"When we see patients, we will have even more experts weighing in on the best treatment for each particular case," says Bender. "In some situations, access to the latest protocols could save our patients' lives."
"Some people travel thousands of miles to take advantage of Cleveland Clinic's treatments and therapies," continues Bender. "Now, they do not have to go to Ohio; they have access to that expert care right here in Cape Girardeau. We expect that our patients will soon be seeing how beneficial it is to work with the nation's top heart program."
For more information, visit www.sfmc.net/dev-2015 or call 573-331-3996.