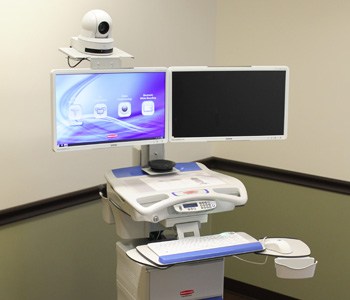 Saint Francis Medical Center recently began a pediatric telemedicine program that will allow children to see neurology and gastroenterology specialists via Internet video conferencing.
The Medical Center is teaming up with Mercy Children's Hospital in St. Louis to offer the program. A pediatric neurologist will be the first to use the technology, seeing children via video conferencing once a month. Additionally, a pediatric gastroenterologist from Mercy will be traveling to Saint Francis once a month to see patients.
"Telemedicine allows communities to have access to subspecialty care without having to drive hours away," says Cathy Abrams, RN, BSN, MS, director of maternal and child health services at Saint Francis. "When children cope with serious health issues, it can be frightening for parents. We want to make it as easy as possible for them to seek care."
During telemedicine appointments at Saint Francis, a nurse will be present in the exam room with the child and parent, who will be able to see the doctor on a screen. The doctor can also see the child. When the nurse performs tests on the child, the information is transferred through a robotic system to a screen in front of the doctor.
"Telemedicine will not replace hands-on interaction with a doctor," says Abrams. "However, our pediatricians are excited about giving their patients an opportunity to consult with a specialist without needing to drive to St. Louis. The specialist can work with the primary care physician to give our patients the care they need."
The neurologist will see children with a wide variety of concerns, including unexplained headaches, balance issues, muscle weakness and seizures. The gastroenterologist will treat children with problems including celiac disease and feeding difficulties. While some children may need to travel to St. Louis occasionally, they will be able to use the telemedicine program for many of their appointments.
"This program also opens the door for future opportunities," says Abrams.
For more information, call 573-331-3996.