Shoulder instability occurs when the ligaments and soft tissue in the shoulder joint and capsule are loose and allow for too much motion. This problem most commonly affects athletes who participate in sports exerting their shoulders and upper arms over their heads.
"Instability can happen due to injury or genetics," says James M. Edwards, MD, orthopedic surgeon who practices at Saint Francis Healthcare System. "Sometimes, people can experience it simply because that is how their shoulder has developed over time."
Often, shoulder instability presents itself as a nagging pain or discomfort that some try to ignore, even when it might need more formal intervention. Saint Francis' Rehabilitation Services offers free injury assessments for athletes of all ages and levels. A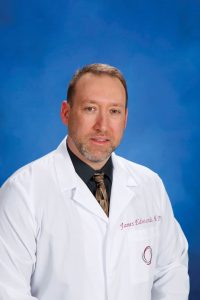 physical therapist or athletic trainer will conduct a screening and either show the athlete exercises for recovery at home or refer him or her to an orthopedic surgeon.
"In many cases, the first step toward treating pain in the shoulder is rest," says Edwards. "If the injury is the result of overuse, taking some time away from the activity will help it heal. Sometimes a more formal physical therapy program at the Medical Center is required."
Saint Francis' Sports Medicine team includes licensed physical therapists who can lead athletes with shoulder instability through a variety of exercises designed to strengthen their shoulder muscles.
Throughout the process, patients may need to use anti-inflammatory medications to control their pain. They also might have to limit their participation in their sport.
"Whenever possible, we want to strengthen the shoulder through nonoperative treatment, especially in our younger patients," says Edwards. "But if those options fail, we could have to go to the next level: surgical intervention."
"When you have pain, do not ignore it," continues Edwards. "It could be your body's way of telling you that something is not working right. There are many ways we can help your shoulder work the way it should."
For more information, call 573-331-3000 or visit our Rehabilitation Services webpage.