As a paramedic and volunteer firefighter, Evan Ineichen, 37, often needs to move quickly on the job. Before spring 2015, his weight made that extremely difficult. But thanks to Weight Loss Solutions at Saint Francis Healthcare System, Ineichen now has enough stamina to save lives.
On May 6, 2015, the Cape Girardeau man underwent the gastric sleeve surgical procedure, during which the surgeon removes about 85 percent of the stomach so it takes the shape of a sleeve. Patients who have this surgery find that they need less food in order to feel full.
Ineichen, who weighed 485 pounds at his heaviest, says he came to Saint Francis at the recommendation of a co-worker.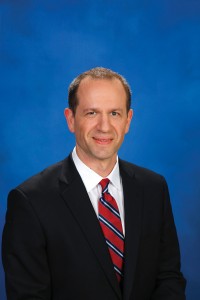 Not only was he tired all the time, but he also suffered from sleep apnea and high blood pressure.
Since the surgery, he has easily lost more weight than he ever did while trying other diets. He is now down to 245 pounds – and still losing weight. "It is interesting to look back at pictures of myself and then look at myself in the mirror," he says. "People I have known for 20 years do not recognize me."
He appreciates the support from both the staff at Weight Loss Solutions and peers who have undergone surgery. Ineichen has made friends through the program's Facebook group.
"We give our patients opportunities to connect with each other through support groups and social media," says Ryan A. LeGrand, MD, bariatric surgeon who leads Weight Loss Solutions, Saint Francis Medical Partner. "Many of them find the process becomes easier when they talk with others who are going through the same journey."
Ineichen and his friends regularly trade recipes and ideas online. "My family lives eight hours away," he says. "My biggest fear was going through this by myself, but I was never by myself. If I did not have the support of the staff at Saint Francis and the Weight Loss Solutions community, I would not be where I am today."
To learn more, call 573-331-3000 or click here.