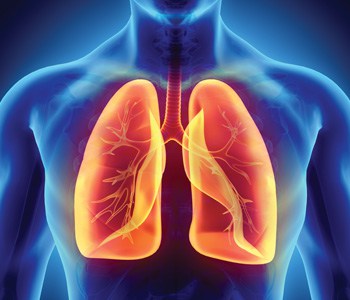 Doctors at Saint Francis Medical Center utilize a minimally invasive method known as an endobronchial ultrasound (EBUS) for diagnosing and staging lung cancer. Endobronchial ultrasound uses sound waves to gain a clear picture of the area around the bronchial tubes and biopsy the abnormal area with a small puncture to determine whether cancer is present and has spread.
"Previously, we would use a bronchoscopy, which is a test in which we insert a camera into the bronchial tubes, to identify the lung cancer," says Anand M. Venkata, MD, pulmonologist and critical care specialist, Saint Francis Medical Partner. "If the patient had lung cancer, he would be referred to a surgeon, who would make an incision in the neck and remove lymph gland specimens from the chest to determine whether the cancer has spread."
"Now," Venkata continues, "we still need the camera to view the bronchial tubes, but we can use the ultrasound to see the area around the tubes to identify structures that are abnormal and biopsy them accurately. Most of the time, we can perform the bronchoscopy and endobronchial ultrasound at the same time, which is minimally invasive and eliminates the need for a second procedure. There is no scar involved with the ultrasound, and the patient is able to recover quickly."
After the ultrasound biopsy procedure, the physician can determine the necessary course of treatment, which may include surgery, chemotherapy and radiation therapy. The extent of the treatment depends largely on whether it has spread to the lymph glands, and if those glands are confined to one particular area or if the cancer is in glands throughout the chest. "This information will help us decide whether we should use surgery or chemoradiation therapy to treat the cancer," says Venkata.
"At Saint Francis, the pulmonologists collaborate very closely with the thoracic surgeons, medical oncologists and radiation oncologists to diagnose and treat patients with lung cancer," continues Venkata.  "We work together as a team, which makes the process much easier on the patient. We can do both the bronchoscopy and endobronchial ultrasound at the same time, and then bring in the other specialists to develop a plan for treatment right away."
To make an appointment with Venkata, call 573-331-3996 or visit his webpage to learn more.