It was a game of miniature golf that inspired Brad Stamp to change his life. The Anna, Ill., church youth director was on an outing with teenagers two years ago when he bent over to retrieve his ball from a hole and found he could not reach it. "I thought, I do not want to feel like I am 80 years old working with these students," says Stamp, who weighed about 450 pounds at the time.
So Stamp, now 34, decided to investigate weight loss surgery. He checked out two different programs,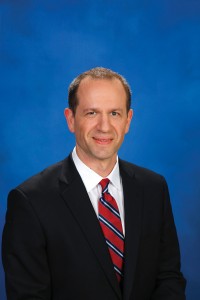 but decided on Saint Francis Medical Center's Weight Loss Solutions because
he felt so comfortable there. "I loved the program from the moment I met the staff," he says. "They took time to listen to my story. I did not just feel like a number or a diagnosis."
On September 16, 2013, Stamp underwent the gastric sleeve procedure in which the surgeon removes about 85 percent of the stomach so it takes the shape of a sleeve. Since the surgery, his health has improved remarkably: He no longer needs to take blood pressure medications and he does not suffer from sleep apnea anymore.
"I have much more energy than I did before," he says. "People have told me that the way I walk is different. I have also noticed a difference in how my legs and feet feel. I did not even realize how much pain I was experiencing until it was gone."
Both before and after their surgeries, Weight Loss Solutions patients benefit from doctors, nurses and dietitians who help them navigate the changes they need to make. "Our staff is always available to answer questions, provide support and offer suggestions," says Ryan A. LeGrand, MD, the bariatric surgeon who leads Weight Loss Solutions.
Now 275 pounds, Stamp recently spoke about his experience to a local high school class that included some of his youth group members. The teenagers were asked to write about his presentation. "Some of my students said I was happy before, but they have noticed I am even happier now," he says. "This surgery has made a huge difference in my life."
For more information, call 573-331-3000.