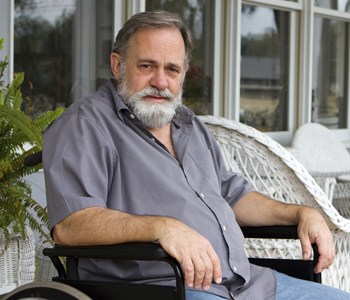 If you have diabetes, you know you are at risk for many serious health problems if you do not control your blood sugar levels. One problem many diabetics face is slow wound healing.
"There are many reasons why uncontrolled diabetes can affect your body's ability to heal wounds," says Matthew B. Schumer, MD, family medicine physician and wound healing specialist at Saint Francis Medical Center. "For one thing, when you have a wound, your body needs to clear away
damaged tissue and build new skin cells for healing. But when your blood sugar levels are high, your body's immune system does not function properly, and it is not able to heal the wound efficiently."
High blood sugar can also cause neuropathy, a form of nerve damage that affects many parts of the body, including the feet. When you experience an injury to your feet, you may not realize it until that injury has become infected and turned into an open wound.
Yet another complication of poorly controlled diabetes is poor circulation. Over time, fatty deposits can build up in your arteries, slowing circulation. Wounds need oxygen from the blood to heal, so a person with poor circulation will have slow wound healing.
"The key is keeping a close eye on your blood sugar," says Schumer. "Try to eat meals at the same time every day and eat healthy snacks at regular intervals between meals. This predictable pattern will help stabilize your blood sugar levels."
Exercise is also an important component of blood sugar management. When you exercise, your muscles use sugar for energy, which lowers your blood sugar level. However, make sure you keep a small snack close at hand in case your blood sugar drops too much.
Medications such as insulin can also help keep your blood sugar on track. Be sure to store your medication correctly and pay close attention to timing and dosage. "Illness and hormonal changes – such as menstruation – can cause fluctuations to your blood sugar level," says Schumer. "Keep careful track of your blood sugar readings to avoid complications."
For more information, call 573-331-3996.