Don't wait till Valentine's Day. Love your sweetheart's heart every day. Keeping your significant other's heart healthy will keep it beating – and keep the two of you together – for many years to come.
What can you do to inspire better heart health? "The No. 1 thing you can do to keep your spouse, children or anyone else you love healthy is modeling good behavior," says Duc T. Nguyen, DO, interventional cardiologist at Saint Francis Medical Center. "That means eating well, exercising regularly, following up with your doctor and taking your prescriptions. If you're younger, prevent future heart conditions by not smoking. If you're older, be sure to get your regular wellness checkups. If you take responsibility for your own health, your significant other will be more inclined to take care of their health, too."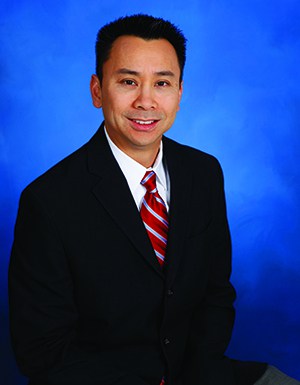 It is especially important to pay attention to the signs and symptoms of heart disease in your significant other. Does he complain of chest pain? Is it difficult for her to breathe? Do you notice any fatigue, fainting, nausea or excessive sweating? If you do, your spouse might need medical care – in addition to your years of tender loving care.
Exercising together can be as beneficial as it is enjoyable. "Take a walk together," says Nguyen. "It's quality time, and it's also a fairly good activity. Actually, it's one of the best activities. You could bike together, run together or even swim together. They're all excellent activities that can be done as a couple. Go to the gym together. Even if you do separate things, you can keep each other accountable."
When you eat together, be sure to eat healthy foods. "Steam or bake everything," says Nguyen. "Both ways are better than frying. The biggest tip I have is try not to eat processed foods. Avoid fast foods. If you follow a healthy diet, that will go a long way toward helping your heart."
For more information, visit www.sfmc.net/dev-2015 or call 573-331-3000.