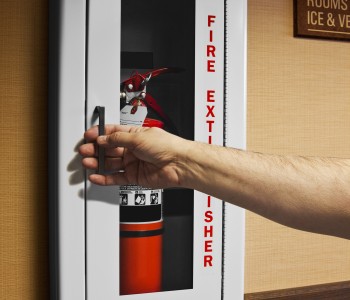 In recognition of National Fire Prevention Week, Cintas Corporation, a leader in first-aid and safety products, identified a few of the top questions safety managers should ask to ensure their business is prepared in the event of a fire. These questions will help businesses to more easily identify opportunities for improvement and help them stay compliant. The top fire safety questions include:
 Is there a written program regarding fire safety?
 Do you have an organized and updated plan in writing outlining fire safety procedures, specific to your facility, to follow in the event of an emergency?
Are employees protected against fire risks?
 Are employees provided proper personal protective equipment (PPE) to ensure their safety from arc flashes, flammable chemicals and other hazards?
Are fire alarms installed and working? Do your safety directors regularly test all fire alarms to ensure they are activated, in working order and have battery backup?
Have employees completed a fire extinguisher training program?
 Are employees trained in how to identify classes of fires and techniques to fight each, PPE, evacuation routes and extinguisher use?
Are fire extinguishers in working order? Have extinguishers been annually maintained and checked monthly to ensure they are not blocked, at the recommended level and free of dents and deposits?
Is the workplace prepared for other fire-related safety issues?
 Do you have at least one functioning automated external defibrillator (AED), and employees trained to use it, to help staff suffering from fire-related cardiac arrest?
Are planned fire safety evacuation routes in place?
 Have you identified and documented several escape routes, conducted fire drills to familiarize employees with the routes and posted evacuation maps?
The results of a fire can be devastating to a business and its employees. And because fires are highly unpredictable, it's important to be prepared and minimize risk wherever possible with solid plans, inspections, maintenance and training.
To learn more about fire safety in the workplace, call Chad Clippard, business liaison, at 573-331-3019.