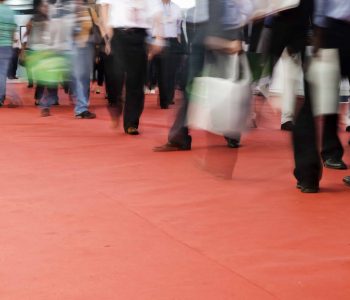 The holiday shopping season can generate larger crowds than normal for retailers, and the Occupational Safety and Health Administration (OSHA) strongly encourages employers to plan in advance to ensure the safety of patrons and staff alike.
Crowd management in advance of major sales or promotions should be in place well before the day of the event. This includes proper training for workers to address potential bottlenecks and other crowd control issues.
Instruct employees to follow instructions from authorized first responders, regardless of any company rules. In addition to having first-aid kits and automated external defibrillators (AEDs) available with trained personnel, OSHA recommends employers adopt a plan that includes some of the following elements:
Planning
Hire additional staff as needed, including trained security personnel or police officers on site

Create a detailed staff plan that designates a location for each worker

Contact local public safety agencies to determine if the event site meets safety requirements and to ensure they are aware of the event

Designate a manager to make key decisions as needed during the event

Prepare an emergency plan that addresses potential dangers for workers, such as crowd crushing, violent acts and evacuation routes

Practice the special event plan with staff
Pre-event preparation
Set up barricades or rope lines well in advance of opening the doors

Leave some space inside the doors before starting the customer lines

Designate workers to direct patrons to specific lines or entrances

Make sure staff has communication capabilities via radio or other device inside and outside the building

Locate popular items in different parts of the store to avoid overcrowding

Rent portable toilets if you anticipate lines outside the store prior to opening

Consider distributing maps showing the locations of key items in the store to patrons while they wait in line or when they enter the store
During the event
Designate a separate entrance for staff than that of the public

Staff entrances with uniformed guards or other obvious authorized personnel

Use the public address system inside or bullhorns outside to communicate information to patrons

Position crowd managers to the side of the lines rather than in the direct path

Use more than one entrance if possible

Ensure the safety of individuals with disabilities

Know when you have reached maximum occupancy levels
For more information on creating crowd management safety plans for your business, please call Chad Clippard, business liaison, at 573-331-3019.