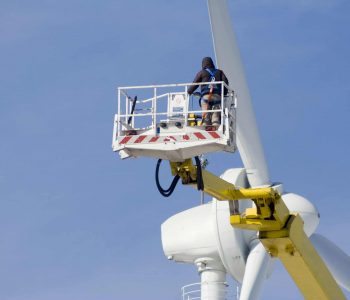 The growth of the wind energy industry brings with it its own set of employee safety concerns. Many of the industry's safety issues mirror those of other industries, while some are specific to wind workers.
Separate OSHA regulations govern the safety of workers during the construction of wind towers (29 CFR 1926) versus the maintenance of those toward (29 CFR 1910). More general OSHA requirements cover other wind worksite activities.
Falls
Guardrails, safety nets or personal fall arrest systems must be in place any time an employee is at risk for falling 6 feet or more during the construction phase. OSHA considers maintenance to be general industry work, meaning the 4-foot fall distance is the threshold where fall protection must be in place. This protection typically is in the form of a guardrail on a platform or a personal fall arrest system.
Climbing fatigue/ladders
Climbing the fixed ladders inside the wind turbine can be fatiguing for workers, and OSHA requires these ladders to have either a safety cage or a ladder safety device. Ladders exceeding 20 feet in length must have a cage or well with a landing platform every 30 feet. Ladders without this equipment must have a landing platform every 20 feet.
Ladder safety devices are acceptable on wind tower ladders more than 20 feet in unbroken length instead of cage protection, and landing platforms are not required in these cases.
Respiratory protection
Maintaining wind turbine blades may require buffing and resurfacing operations. These tasks may expose workers to harmful vapors and dust. Workers may need respirators if ventilation is not sufficient to protect them.
Workers must be aware that respirators will not necessarily protect them from airborne hazards. For example, heavy breathing can compromise the seal around the respirator and allow chemicals to enter the breathing zone without benefit of the filter.
Fires
Electrical equipment, lubricants and combustible materials can create fire hazards. Fire plans should include evacuation plans, including quick-escape descent devices for workers to escape the tower in the event of fire or other emergency.
Confined spaces
A permit-required confined space (PRCS) presents or has the potential for hazards related to atmospheric conditions, engulfment or any other recognized serious hazard. Many wind turbine nacelles fit that description. The employer must develop a written, permit-required confined space program that details the steps needed to make the space safe for entry.
Electrical
Employees at wind farms can experience arc flashes, electric shock, falls due to shock and thermal burn hazards. OSHA requires employers to implement the safe work practices and worker training requirements in the Electric Power Generation, Transmission and Distribution standard (29 CFR 1910.269).
Moving parts
Turbine gears and blades produce obvious risks for wind farm workers. If not guarded properly, they have the potential to cause a variety of severe injuries or death. Employers must ensure their workers have protection from these moving parts prior to use.
To learn more about how Saint Francis Medical Center can help you protect your workforce, call Chad Clippard, referral services manager, at 573-331-3019.