Saint Francis offers three locations in Jackson to meet your family's healthcare needs:
---
Advanced Orthopedic Specialists
Founded in 1934, Advanced Orthopedic Specialists is the area's premier orthopedic center. The practice is dedicated to providing patients the highest level of care and compassion in every orthopedic specialty. This has been the guiding principle for more than 80 years and will continue to be for future generations.
The specialty-trained doctors at Advanced Orthopedic Specialists provide treatment for orthopedic injuries and conditions affecting the ankle, elbow, foot, hand, hip, knee, shoulder, and wrist in addition to specializing in joint replacement and revision, pain management, physical medicine & rehabilitation and sports medicine.
Contact
1404 Old Cape Road, Suite 203
Jackson, MO 63755
573-335-8257
---
Saint Francis Clinic Jackson
Primary Care and Urgent Care in Jackson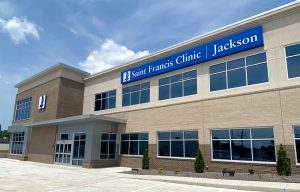 Saint Francis Clinic Jackson provides primary healthcare in southeast Missouri for adults and children of all ages. We promote patient health through regular checkups, screenings, patient education and preventive care. When patients become ill or develop health conditions, Saint Francis Clinic Jackson physicians have the breadth of experience in family medicine to discover the underlying issues and offer patients the insights necessary to make informed decisions. When appropriate, our providers connect patients with specialists at Saint Francis Medical Center and coordinates their care.
Saint Francis Clinic Jackson also extends our urgent care coverage in southeast Missouri and provides the following urgent care coverage:
Bronchitis
Bruises or sprains
Colds or flu
Cuts or lacerations
Ear infections
Hives or rashes
Sore or strep throat
Vomiting or diarrhea
We also offer the following on-site services:
Counseling
Imaging
Laboratory
Walk-in urgent care services
Contact
2130 E. Jackson Blvd.
Jackson, MO 63755
573-243-8408