Saint Francis Healthcare System conducted an Ebola simulation training Wednesday, May 29, at Saint Francis Medical Center's Emergency and Trauma Center as part of the statewide 2019 Spring Break Mission Full-Scale Exercise.
Members of the Saint Francis Emergency Team and Cape Girardeau County Ambulance Service took part in the simulation. Ken Palermo, Deputy Director of Division of Community and Public Health for the State of Missouri, and State Representative Kathy Swan, (R) District 147 Cape Girardeau, observed the training. The training was done in coordination with the Missouri Department of Public Safety Emergency Management and Missouri Department of Health and Senior Services.
"The interaction of our public health and healthcare systems is vital for ensuring appropriate and safe responses not only for Ebola, but for situations where protecting health and keeping people safe is paramount," said Palermo.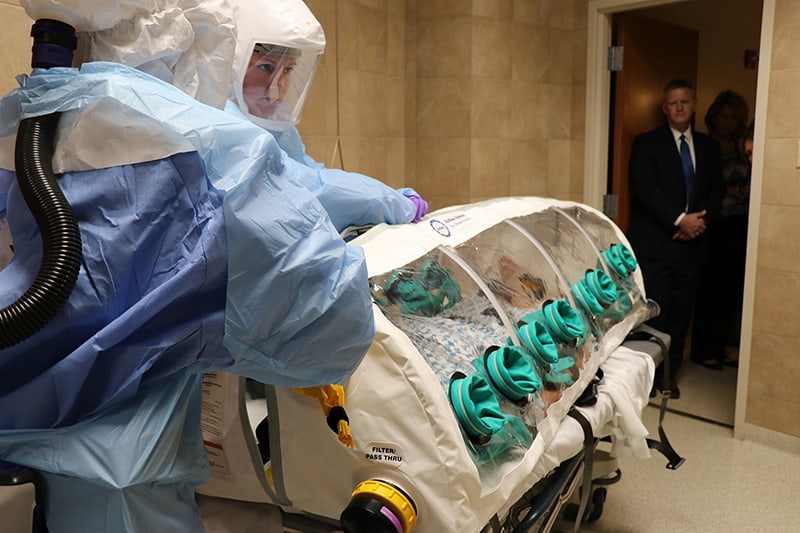 The Full-Scale Exercise lasted three hours. The exercise was limited to response, simulated by participating frontline facilities and EMS specialty transport teams. Nurses and EMS personnel suited up in protective clothing, took the "patient" to a holding room and secured him in a specialized compartment so healthcare professionals could safely treat him. The transport team practiced loading and unloading the patient into an ambulance prepared with protective sheets. The ambulance crew and nurses also practiced the decontamination process of properly wearing, shedding the protective layers and disposing of them.
This Full-Scale Exercise occurred in multiple sites statewide and aligned with the Region VII Full-Scale Exercise that occurred on May 30 in which a simulated confirmed Ebola Virus Disease (EVD) patient was transported from Barnes-Jewish Hospital in St. Louis via ambulance to a regional Ebola treatment center at University of Iowa in Iowa City, Iowa for patient care.
"It's just good to have this exercise periodically," said Rep. Swan. "In an emergency, there's not much time to think. It's important to know what to do just in case you need it."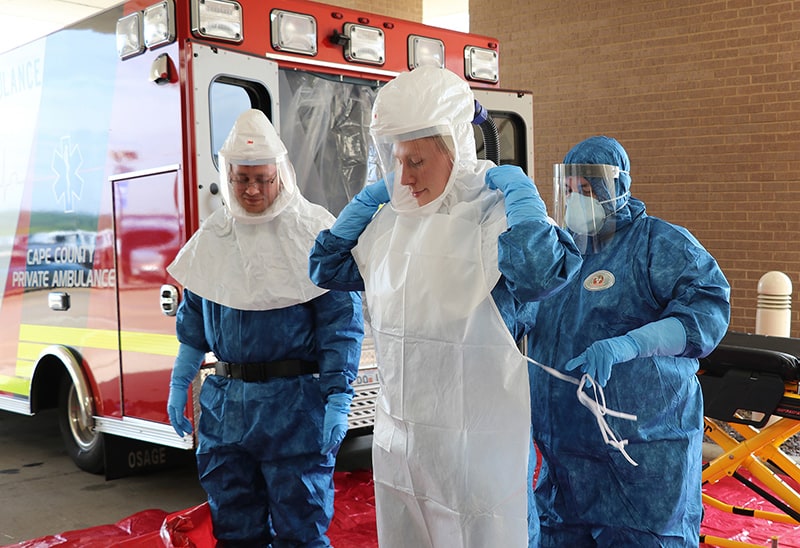 "Overall, it went really well," said Chad Garner, RN, BSN, CEN, Director of Emergency and Trauma Services at Saint Francis. "For a facility not considered a receiving center for infectious patients as well as a low possibility of receiving one of those patients, I was impressed with the way the Emergency Department handled the statewide Ebola exercise. We feel that our staff achieved our mission."
Saint Francis Medical Center's Emergency and Trauma Center is the only state-designated Level III Emergency and Trauma Center in southeast Missouri.