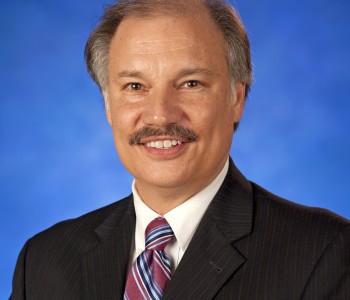 Becker's Hospital Review has named Steven C. Bjelich, FACHE-D, Saint Francis Healthcare System President and Chief Executive Officer, a recipient of the 2014 Leadership Awards.
These awards recognize leaders nationwide who demonstrate an unwavering commitment to better their organizations and solve healthcare's broader challenges. Award recipients will be recognized at the Becker's Hospital Review Annual Meeting held May 15-17 in Chicago.
The complete list of all 25 recipients includes leaders of well-known organizations such as Mayo Clinic in Rochester, Minn., and Cleveland Clinic in Cleveland, Ohio. Several other distinguished recipients are listed below:
Richard Bracken, Chairman of Hospital Corporation of America (Nashville)
Toby Cosgrove, MD, President and CEO of Cleveland Clinic
Trevor Fetter, President and CEO of Tenet Healthcare (Dallas)
Farzad Mostashari, MD, Former National Coordinator for Health IT and Visiting Fellow at the Brookings Institution (Washington, D.C.)
John Noseworthy, MD, President and CEO of Mayo Clinic (Rochester, Minn.)
Warner Thomas, CPA, MBA, FACHE, President and CEO of Ochsner Health System (New Orleans)
Kathleen E. Walsh, President and CEO of Boston Medical Center
See all recipients at www.beckershospitalreview.com.
Bjelich has led Saint Francis Healthcare System since 1999. He has more than 36 years of extensive healthcare experience at the senior management level, serving in executive positions at hospitals and healthcare systems in Delaware, Pennsylvania, Kentucky and California.
Bjelich holds a master's degree in healthcare administration from the Indiana University School of Medicine and a Bachelor of Science in Business Administration from Indiana University, Bloomington, Ind. He is a Distinguished Fellow in the American College of Healthcare Executives, an advanced member in the Healthcare Financial Management Association and a member and state alternate delegate to the American Hospital Association.
He is also an active community leader and serves numerous nonprofit organizations. He is board chair-elect of the Missouri Center for Patient Safety and a member of the Government Relations Committee and the Legislative Advisory Committee for the MHA.