Big changes were happening in the Level III Neonatal Intensive Care Unit (NICU) at Saint Francis Medical Center on December 10 as staff moved tiny patients into a new, larger space. The expanded Level III NICU is one of the first areas completed as part of the Medical Center's "Building on Excellence" expansion and renovation project.
Beginning at 8 am, after physicians made rounds, nurses began moving babies to the new area one floor below the previous unit. All 14 babies were in their new rooms by 10 am. April Bond, RN, BSN, CLC, Level III NICU discharge coordinator, says the transition went smoothly, thanks to lots of preparation by staff.
Besides the additional space, one of the most significant changes is the switch to 18 individual rooms, reflecting best practices in neonatology. The rooms allow parents to be comfortable while with their babies and have a more active role in their care. Private rooms also help prevent the spread of infection and give sick infants the best environment in which to thrive.
The expanded facility also has specially designed spaces for multiples, with rooms equipped especially for twins and triplets. The new space also includes a family room that has activities and videos and provides a respite for families who want a short escape from the clinical setting.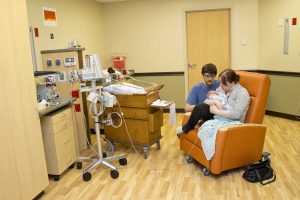 The family room was made possible through fundraising efforts by The Friends of Saint Francis.
Saint Francis Foundation is contributing $1.5 million to help to pay for the new Level III NICU. The Foundation also is raising additional funds, for a total of $3 million, to fund special projects including a Level III NICU Developmental Follow-up Clinic, family resting accommodations and Baby Cams.
Saint Francis' Level III NICU was the only one in the region when it opened in 2001. It is staffed by three board certified, fellowship-trained neonatologists who care for premature and critically ill newborns and a highly experienced staff. Saint Francis treats approximately 250 babies in the Level III NICU each year.