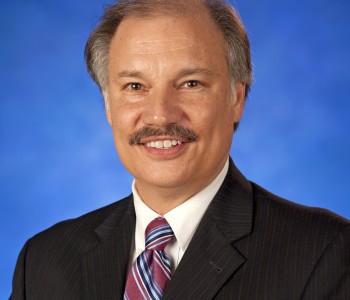 Steven C. Bjelich, FACHE-D, President and Chief Executive Officer, Saint Francis Healthcare System, has announced his retirement from the System, effective September 1. He has led Saint Francis since 1999.
In accepting his resignation, Saint Francis Healthcare System board chair Don Kaverman said, "For almost two decades, the names Steve Bjelich and Saint Francis were synonymous. Under his leadership, we have grown as a system to be the crown jewel in healthcare for this region. Steve's handprints are everywhere you look: his regional development of clinics and referral relationships, our outreach and regional presences, our hospital construction, the recognition of Saint Francis as one of the Best Places to Work in Healthcare nationally, as well as the launch of several aggressive multi-campus building projects."
As part of the succession plan, Maryann Reese has been appointed President and CEO. Reese, RN, MHA, DHA, FACHE, has served as Executive Vice President and Chief Operating Officer since August 2015. The Most Reverend Edward Matthew Rice, Bishop of the Diocese of Springfield-Cape Girardeau, must approve Reese's appointment.
Bjelich was responsible for reinstituting obstetrics to Saint Francis in 2001 after a 36-year absence. He also developed the region's only Level III Neonatal Intensive Care Unit (NICU), recruiting three board certified, fellowship trained neonatologists and the area's only perinatologist for high-risk mothers, the only program of its kind in the region. The Level III NICU has been renovated three times to accommodate the increased volume that clearly supports the need for such a service.
He was responsible for the renovation of key areas of the Medical Center, including Master Facilities Plans 1 and 2 to update the 1975 inpatient areas. He built the $23.7 million medically integrated fitness center, the first of its kind in the area; tripled the size of the Emergency Department, which received state designation as a Level III Trauma Center; and built the region's only dedicated Heart Hospital and Cancer Institute, which opened in 2011. In 2016, Saint Francis opened its Building on Excellence project – a $127 million tower with all private rooms, and the Women and Children's Pavilion. With these developments under Bjelich's leadership, Saint Francis' Cape Girardeau campus has more than quadrupled in size and now comprises 1.4 million square feet. Outside of Cape Girardeau, Bjelich's vision has guided the construction of regional locations across the state, including Dexter, Poplar Bluff and Farmington.
Under Bjelich's leadership, the Healthcare System ranked as one of the Best Places to Work in Healthcare for six years running. In addition to excellence in patient quality, the System has demonstrated strong financial performance by maintaining an AA- (Fitch) and A+ (Standard & Poor) ratings.
Bjelich developed the Saint Francis Medical Partners, a medical group practice without walls employing more than 200 physicians throughout the region and at 32 outpatient sites. He negotiated clinical affiliations with MD Anderson Cancer Center and the Cleveland Clinic, the best specialty programs in the country. With his leadership, Saint Francis recently transitioned to Epic, the nation's premier fully-integrated electronic medical records system, further improving patient safety and consistency of care.
Beyond his accomplishments in facility and employment growth, Bjelich is wholly and personally dedicated to Saint Francis' mission and ministry of healing and wellness. He has led the organization as it has provided more than $100 million annually of charity care and community benefit. Bjelich established an innovative service quality award where employees can receive additional money based on the Medical Center's performance on key metrics. In the 17 years of this program, employees have earned $79,459,393 above their base compensation. This unique program assisted in improvement in patient satisfaction, employee satisfaction and financial performance.
Bjelich was most recently recognized by the Missouri Hospital Association (MHA) with its Distinguished Service Award – the organization's highest honor. He has been an active board member and has chaired many committees for MHA since he came to Missouri. He also received the MHA Visionary Leadership Award in 2010. Bjelich was recognized by Becker's Hospital Review with its Leadership Award in 2014. That same year, Bjelich was featured as one of Becker's Health Systems CEOs You Need to Know.
"In accepting Steve's retirement, we have great comfort knowing that his well-developed succession plan will continue his legacy," Kaverman said. "The executive team has been developing a succession plan for many years, as the board determined it wanted to continue the fabulous momentum the system has enjoyed over the past 18 years."
Reese came to Saint Francis Healthcare System from St. Elizabeth's Hospital in Belleville, Ill., where she served as Chief Executive Officer since 2011. She has more than 15 years in executive leadership for a variety of hospitals and healthcare systems. Most of her career has been spent with Catholic hospitals, giving her a unique perspective for this ministry. Beyond her experience in Catholic healthcare, Reese served in various leadership roles at the Hospital Corporation of America, the largest for-profit national health system in the country.
At St. Elizabeth's, she oversaw a 350-bed facility that is part of the Hospital Sisters Health System, a $2 billion Catholic health system based in Springfield, Ill., with 14 locations in two states.
Reese holds a doctorate in healthcare administration from Central Michigan University, a master's degree in healthcare administration from the University of Minnesota and a Bachelor of Arts in healthcare administration from Graceland University. She is a registered nurse by training.
"This appointment represents a continuation of the great work started by Steve," said Kaverman. "We wish he and Lisa the happiest of retirements and thank them both for their commitment to our community."