When it comes to population health, the numbers are seldom kind to the people of Southeast Missouri.
The rates of childhood poverty and low birthweight are higher there. So too are the rates of cancers, premature death, and a variety of other negative outcomes.
Each year, the Robert Wood Johnson Foundation and the University of Wisconsin's Public Health Institute publish a national study ranking counties by both risk factors and health outcomes. Most years, Missouri's Southeastern counties make up the state's bottom quartile.
Social, environmental and economic factors contribute to a population's health, but in many cases, the first hurdle to adequate care is proximity. Less than two percent of new physicians elect to serve in rural areas over urban markets and for some rural populations, the nearest doctor is simply too far away. It's a problem nurse practitioner Amy Watkins, MSN, FNP-C sees frequently among her patients at Ferguson Medical Group – Charleston in Charleston, Missouri. Many of the medical specialties and services her patients need are available in Cape Girardeau, and the 45-minute drive to get there can be prohibitive.
"In this area, there are a lot of people who don't have reliable transportation," she said. "So having someone to care for them locally, that's a huge deal."
Plus, Watkins said the clinic's location in downtown Charleston makes it much more likely that her patients will be able to show up to appointments.
"We actually have several patients who walk here because they don't have transportation and sometimes can't even find a ride," she said. "If those patients didn't have a local nurse practitioner or someone to see, they likely wouldn't get their healthcare at all. There are a lot of people who would just stay home because they don't have any other options."
While getting patients into a clinic is a good first step, access is still only one part of the equation, Watkins said. Primary care alone isn't enough to fix population health outcomes; it's important for patients to be able to get the specialty care they need as well. For that, Watkins said, being part of a larger provider network like Saint Francis Healthcare System affords Ferguson Medical Group – Charleston invaluable resources.
"It's so much better," she said. "Everything from the network of specialists to the patient record system. Having those connections makes things easier for the provider and better for the patient. I can send them to a neurosurgeon or a gastroenterologist and see their results that day. It's wonderful."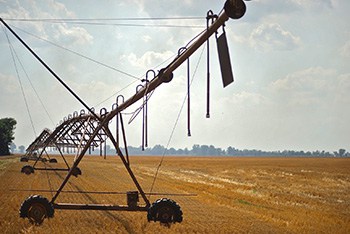 As part of a notoriously shifting healthcare industry, providers like Watkins and Dr. Robert Robbins at Ferguson Medical Group – Charleston have been instrumental in helping fulfill Saint Francis Healthcare System's commitment to improving population health outcomes. Director of Ambulatory Services Jason Bandermann said the Health System's focus on patient outreach through rural health clinics like the one in Charleston represents an investment in the future health of the region.
"In terms of primary care, and even some specialty services, our strategy over the last several years has been to adopt more of a wheel or a hub-and-spoke type model," he said. "By expanding our provider network, we are able to ensure primary care resources are available throughout the region."
The initial idea, he said, was to send specialists to places like Farmington and Poplar Bluff to serve those patients who most needed certain types of advanced care. Those efforts, in turn, laid the groundwork for more collaborative outreach later on.
"That's how we started those relationships in primary care," Bandermann explained. "We started hearing people saying, 'We need this. Could you provide more primary care?' and we said, 'Absolutely.'"
Now, in addition to Ferguson Medical Group – Charleston, Saint Francis has rural health clinics in many of the communities that need it most, including Piedmont, Poplar Bluff and Dexter. There are even clinics in Jackson and Cape Girardeau. Nurse practitioners like Amy Watkins are helping doctors treat more patients and doctors specializing in orthopedics, vascular surgery, neurology, cardiology and more often travel to outlying practices to meet patients' needs where they are.
"And even those patients who do end up needing advanced care, rather than going to a big city like St. Louis or Memphis, they can come to Cape," Bandermann said. "Sure, we have a couple of roundabouts, but it's nothing compared to navigating one of the big metro areas. As a good-sized university town, Cape Girardeau has tons to offer, but as a community, it's also small enough to make you feel like you're close to home."
For Watkins, that small-town dynamic is what she enjoys most about her job.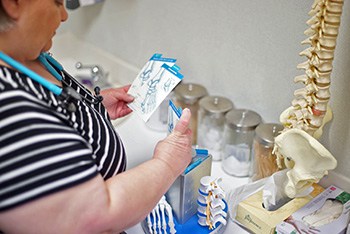 "I grew up here," she said. "In Scott City. I just love being in a small area. It's more personal, I think. You get to know your patients in a way that wouldn't happen in a bigger practice."
That consistency and personal connection, she said, can also be used to provide better care.
"You get to know their lives," she said. "And sometimes, if someone doesn't have the money for a medication or doesn't have good insurance coverage, finding a way for them to get the care they need depends on having that relationship. I don't want anyone to have to choose between getting their medication or their supper tonight."
Working with people where they're at; that's the first step toward making a healthier region overall, she said.
"I just want to help people," she said. "Make them feel better."