Saint Francis to Offer Free Head and Neck Cancer Screening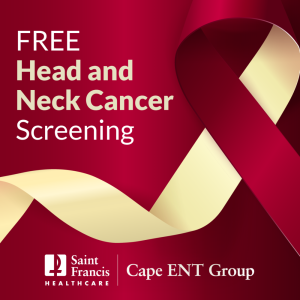 In the United States, six percent of newly diagnosed cancers involve the head and neck. More than 70 percent of oropharyngeal cancers – tonsils, base of tongue, palate – are caused by the Human Papilloma Virus (HPV), and are seen more frequently in younger adults.
Early detection leads to better treatment options, but unfortunately 50 percent of cases are diagnosed at an advanced stage.
Luke Small, MD, otolaryngologist with Cape ENT Group, a Saint Francis Healthcare System Medical Partner, is offering a FREE head and neck cancer screening on Thursday, April 20, from 1-4:30 pm at Cape ENT Group, located at Saint Francis Medical Center, Entrance 8, Suite 420.
Symptoms of head and neck cancers may include:
Neck masses/lumps
Jaw swelling
Chronic sore areas
Difficulty swallowing or chewing
Ear pain
Recurrent nosebleeds
Dental pain
Hoarseness
Oral bleeding
Difficulty breathing
To register for a FREE screening, call 573-335-4448.