Jean Joins Saint Francis as Director of Development and Diversity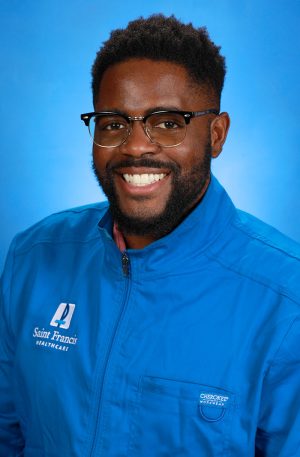 Saint Francis Healthcare System is pleased to welcome Wyky Jean as the Director of Development and Diversity, effective May 2021.
In this role, Jean will develop, implement and monitor diversity goals and programs in various departments and make the Foundation donor experience as seamless as possible.
"We are very excited to welcome Wyky Jean to the Saint Francis Family," said Jimmy Wilferth, Vice President of Foundation and Marketing at Saint Francis. "In this role, Wyky will be instrumental in engaging the hearts and minds of not only our colleagues but also our community to create a more diverse, equitable and inclusive Healthcare System. With his extensive community relationships, Wyky will also add to the Foundation's development. His expertise and experience will be instrumental as we continue to care for the communities we are called to serve."
Jean was born and raised in Pompano Beach, Florida. In 2009, he relocated to Cape Girardeau to play football for Southeast Missouri State University, where he graduated with a degree in Corporate Communications. During his twelve years in Cape Girardeau, Jean has contributed to the betterment of the community in many ways, including serving as a first responder for the 32nd Judicial Circuit Juvenile Office and co-founding the Honorable Young Men's Club. Both roles inspired Jean and allowed him to mentor young men in the Cape Girardeau Public School District who struggle with behavioral challenges. Jean helped teach young men critical life skills to enable them to realize and reach their full potential.
When asked what drew him to Saint Francis Healthcare System, Jean said, "I am purpose and mission-driven, and Saint Francis is very supportive of the community while its Mission is rooted in faith. Everything seemed to align between my values and what Saint Francis stands for." He added, "I am excited to be a part of an organization that wants to take major steps to utilize proper resources to heal and bring quality service to patients, staff, the community of Cape Girardeau and beyond.