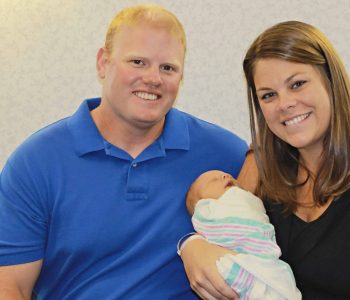 At 3:23 pm on Tuesday, July 3o, Saint Francis Medical Center's Family BirthPlace celebrated its 102nd delivery of the month, setting a new record for the hospital. The Medical Center finished the month with 105 deliveries, breaking the previous record of 101 deliveries, set in December 2012.
Rhett Matthew Strickland was the record-breaking baby, born to parents Cortney and Matt Strickland of Jackson. Ann E. Behrend-Uhls, MD, FACOG, obstetrician/gynecologist at Cape Care for Women, delivered the 8-pound baby boy.
Since opening in 2001 – after 35 years without obstetric services at Saint Francis – the number of deliveries at the Family BirthPlace has grown each year. The department had 1,039 total deliveries in 2012, including 19 sets of twins and one set of triplets.