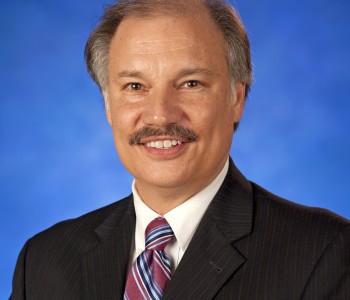 The Missouri Hospital Association (MHA) Board of Trustees has appointed Steven C. Bjelich, FACHE-D, Saint Francis Healthcare System President and Chief Executive Officer, as state alternate delegate to the American Hospital Association (AHA) Region 6 Policy Board. His three-year term will begin January 1, 2014.
The nine Regional Policy Boards provide input on public policy issues considered by the AHA's Board of Trustees, serve as ad hoc policy development committees when appropriate, and identify needs unique to a region and assist in developing programs to meet those needs. Representatives meet three times a year to foster communication between the AHA, its members and state hospital associations.
"Steve's knowledge of state and national healthcare issues will allow him to provide the Regional Policy Board with an important perspective," said Herb B. Kuhn, MHA president and CEO. "He is a trusted voice in Missouri healthcare and will add greatly to policy development on the national level."
As the alternate on the Regional Policy Board, Bjelich will also retain his seat on the MHA Board of Directors. He will complete a third term on that board December 31, 2013.
Bjelich has been the President and Chief Executive Officer of the Saint Francis Healthcare System since 1999. He has more than 35 years of extensive healthcare experience at the senior management level, serving in executive positions at hospitals and healthcare systems in Delaware, Pennsylvania, Kentucky and California.
Bjelich holds a master's degree in healthcare administration from the Indiana University School of Medicine and a Bachelor of Science in Business Administration from Indiana University, Bloomington, Ind. He is a Distinguished Fellow in the American College of Healthcare Executives, an advanced member in the Healthcare Financial Management Association and a member of the American Hospital Association.
He is also an active community leader and serves numerous nonprofit organizations. He is board chair-elect of the Missouri Center for Patient Safety and a member of the Government Relations Committee and the Legislative Advisory Committee for the MHA.